So it is true, after a decade, the new Honda City is arriving finally in Pakistan. Now I won't bother making a fuzz over what everyone is saying regarding the 6th Gen being released rather than 7th Gen. That is the wrong issue to focus on. The right one being, at least from a techie's perspective – to focus on the fact that will it support all the modern features or will we still get features such as 'ergonomic' lattu (tops) AC controller and no Air Bags. The other issue to ponder upon is with Honda Atlas and its pre-booking practice of deception. First, let's get over the basics.
Honda City booking details
The 2015 globally released Honda City 6th Generation is set to be on the roads of Pakistan by end of the year 2021 tentatively. Pre-Booking of the said vehicle is currently open for the masses.
"Partial booking amount for City standard variants is Rs1 Million and Aspire variants is Rs1.2 Million,"

Honda Atlas stated
Variants as per speculation being offered in Pakistan will be:
Honda City 1.2L Manual
HondaCity 1.2L CVT
HondaCity 1.5L CVT
HondaCity Aspire 1.5L MT
HondaCity Aspire 1.5L CVT
One thing to note is that these go nicely to compete with current offerings like the Toyota Yaris.
Why not to book Honda City early?
The problem is that the only information for booking available is the engine variants. That is where the deception part comes in. This is not the first time Honda Atlas has done this though, and quite successfully at that; they did the same practice before the launching of Honda BR-V and Civic 10th Generation (Civic – X).
Now I understand that a country that is literally thirsty for any new sedan to show up, partially because of the crossover rain and partially being the country that is used to 3 decades of Suzuki Mehran and 10 years of current Honda City; people will easily pay up for anything with a Toyota or Honda badge on it. Its still to be said that such behaviour will only enable these manufacturers to exploit the consumer more.
There are speculations already about how the dealers announced pre-booking before Honda Atlas officially did itself – clearly depicting that a hefty portion of the booking has already been sent over to investors. Even after all the reasons not to fall for this scheme, people are still falling for the trap and making pre-booking payments as per the latest updates.
Lastly, a lot of new brands are entering the market. Consumers of Pakistan finally have way more choice than they ever did in every segment of the automotive industry. From choices like United Alpha to Changan Alsvin, Proton Saga and many more; the consumers should finally realize that they are in power now. Selling a product without revealing any of the features is just a big cheat on auto manufacturers part.
Why did Honda Atlas not reveal all features of Honda City?
So as many in-depth articles we do here at SK NEXUS, this is the part where we put our tinfoil hats on. Toyota Yaris was released earlier last year and saw massive success in the market, it was the first vehicle of its kind offered by Toyota and had many unique features that no compact sedan offered at the time. Toyota Yaris was compared to variants in other countries like India where it had many more features but that kind of information was lost on local consumers as over here there was only ONE Toyota Yaris version. This helped Toyota openly market their vehicle and reveal it fully close to the time of launch.
This is where the issue for Honda City 6th Generation lies, unlike Toyota Yaris 2020 – Honda City is not the only Honda City in Pakistan. There is another City, JDM (Japanese Domestic Market) indeed, and problematically known for its failing transmission – exactly, the Honda Grace Hybrid. Honda Grace Hybrid physically speaking is the exact same vehicle that we are getting as the local Honda City in Pakistan. That is the reason I believe Honda is hiding the 'features' for this vehicle as they are scared that will create negative hype around the product. Read below as to why.
Features of Honda City that you won't (maybe) see
Fun Fact; I actually owned a Honda Grace Hybrid 2015 for more than 14 months. It was quite expensive to upkeep due to its infamous transmission issue it shared with Honda Vezel Hybrid and Honda Fit Hybrid; but one thing was sure, it was and still is the most feature-rich and fun car I have ever had the pleasure of keeping.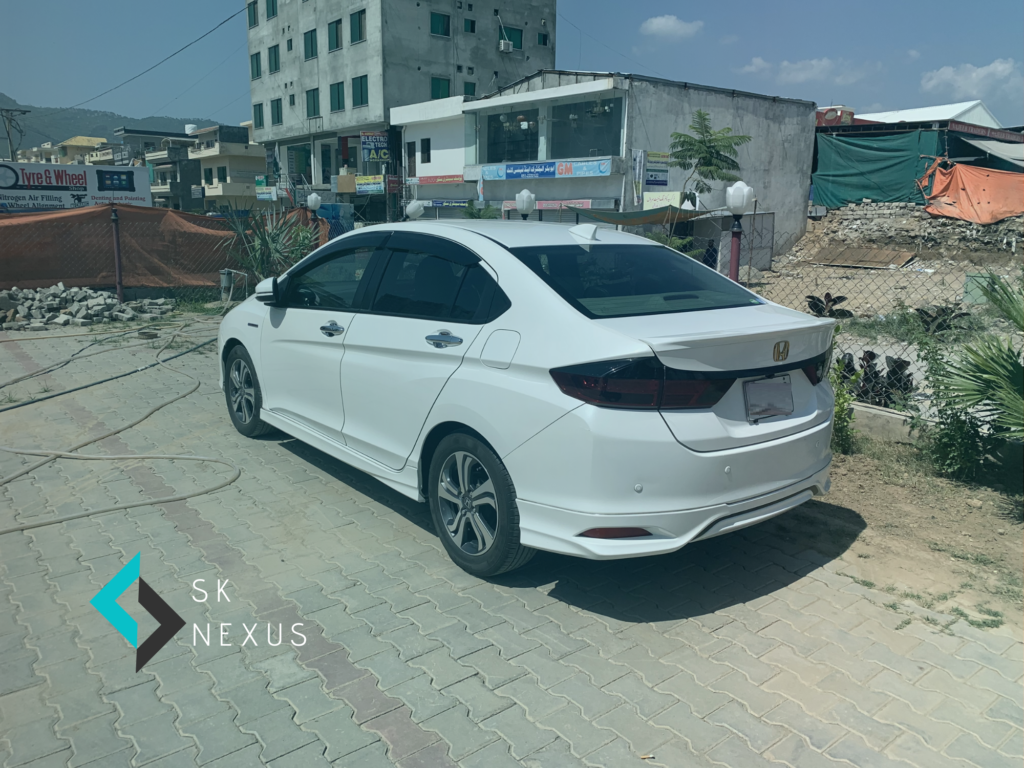 First of all, it was a Hybrid engine, it easily beat out any car in its category and even going toe to toe with many above its league. The hybrid engine with its flexible modes of Sports, Eco and Normal – equipped along with pedal shifters (YES, pedal shifters on a Honda City, even the local Civic is too poor for that) meant that it was a beast of a car. With special tuning, rich fuel and good tyres I could easily do a 0-100 under 10 seconds on many roads (Compared to the current Honda City Aspire 1.5 Automatic having a 0-100 of about 13-15 seconds). This all being said, there is no way that the newly announced Honda City will come even close to what Grace offered (ahem – minus the transmission issues).
Here is what the top of the line Grace offered in terms of features:
Detailed MID display with trip, eco, battery, fuel information
Both front seats electrically heated
Push Start
Daylight running LEDs
Interior Mood lights
Climate Control
Rear AC Vents
Rear Charging outlets
Rear Arm Rest
Pedal Shifters
Eco, Sports and Normal Modes
Ergonomic Gear Shifter
Fog Lights
Chrome Accents on Door Handle
Chrome Grill
Parking Sensors for front and rear
Cruise Control
Capacitative Touch-Based centre console
Keyless Entry
Auto-Locking Doors with Speed Detection
To be honest, much more of what I can't recall
And of course, it was a Hybrid as stated earlier with a 1.5L engine capacity.
Now look at this list and revisit it later once the feature list for the new Honda City is released. The matter will be laughable.
Is the new Honda City a bad Car?
No, it won't be a bad car. Yes, the current Honda City is a pretty bad excuse for a car considering its price and features, but the new one has to be much better or at par with the current industry offerings. Also we surely can't expect local auto manufacturers to match spec of international variants yet. The issue of heavy taxation along lack of competition besides many other reasons can be considered for this reasoning.
In the end even though I loved my Grace, that car was just not meant for the roads and maintenance expertise of Pakistan, the transmission constantly failed and cost me a lot to keep it running. In that regard, it could be sure to say that what Honda Atlas releases will be a tad more reliable (unless they repeat what happened with Civic X's launch). I just like it whenever there is a new choice for the consumer. It means we are finally moving towards a future where the brands have to work for the consumer, not the other way around.
Let's just hope that Honda is more open with what they are offering in the future.
---
As always, all the articles written on this platform have a unique perspective to offer. We understand that information availability is important and that is why most 'first to write' entities will clickbait all the articles they can. We on the other hand want to write what we actually think about something new in the tech world, so if you enjoyed what you read – consider sharing among interested people such as yourself and help us get better at this initiative of sharing unique perspectives.
You can always send your suggestions at admin@sknexus.com or follow us on Instagram @sknexuspk
I am a Tech-Driven Product Manager who enables your business to deliver software – better than ever before.
The fields of Product Management, Business Operations, and Consumer Tech drive me forward.
A Decade of executing successful projects along with hands-on experience of 10,000+ hours in IT, Software Development, and SaaS –
I enable great People to build greater Products