SK NEXUS has the vision to create a Nexus for Society and Knowledge
The future is pretty clear, gone are the days of mass-manufactured information on the internet, and in are the days of curated, concise, and consistent knowledge based on shared experiences.
SK NEXUS wants to build a platform built on the pillars of trust, accessibility, and profound expertise.
Where we started:
We started this platform to share our love for tech and make people see that tech does not need to have complications in it. The everyday person should be free to see, learn, and have fun with everything tech.
Where we are:
Today, as technology stands as a pivotal foundation in Pakistan's promising future, we envision SK NEXUS as a catalyst for professional growth and development.
Our mission is not only to evolve ourselves but also to empower those around us with the knowledge and expertise needed to thrive in the ever-changing tech landscape.
Three ways the folks behind SK NEXUS are building content:
1 – Newsletter/The Wandering Pro
Career content often doesn't translate to success.
Simply because most of it is irrelevant to your location, your situation, or your capabilities.
Talent is distributed evenly, but opportunity is definitely not – being from Pakistan, I learnt that the hard way.
The goal of this platform is to enable people with accessible information voiced from passion.
Being on the lower side of tech-savviness, Pakistan as a nation needs more accessible ways to learn and love technology. Our podcast offers a fun twist on the weekly tech topics – where we want to intersect technology knowledge with listener entertainment, where we want to make tech more fun.
Real experiences with technology told in real worlds. A no BS approach to tech journalism where we don't care about the algorithm, we only care about the authenticity behind the information.
Having a combined experience of over 20,000+ hours between the team, we take our opinions seriously and write to educate, not just to inform.
---
Meet The Very Large Team of 2 People
---
Saqib Tahir
---
A brain that never sleeps, We could write that he's a Mechanical Engineer by academic qualification and a Product Manager by profession but where's the fun in such details.
10+ hours of podcasts per week, 1000+ mins of watch time of tech videos every month, 1,000,000$ worth of projects managed each year – numbers very hard to beat for many
Want something more serious? At the age of 11, Saqib was an Apple Certified Macintosh Technician who started working on computers, gadgets, and accessories and hasn't stopped ever since. But that doesn't stop him from learning something new every day because he believes "technological pace of evolution is faster than time"
In his spare time, he likes contemplating if he will ever get serious about picking any one field to get better at, just look at his work history; honestly a mess all around.
Most Importantly his love for tea is formidable.
---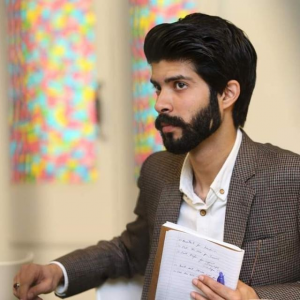 Khayyam Jafri
---
His obsession for creating history can be contagious or drive you insane, we mean it!
Yes, he's written 3 research papers, presented his research at national conferences for HEC Pakistan, an article published in Business Recorder, has managed startup incubation and acceleration programs that have provided roughly more than 70,000$ worth of seed investments to startups in Pakistan but who cares right?
To the fun stuff, a tech enthusiast who plans to live the next chapter of life inside a wooden cabin in the woods; is a documentary buff – and is terrified by body odour and bad breaths.
This guy reads tech blogs for fun (boring)
His OCD has helped him plan and execute some remarkable marketing campaigns while working for corporate and public sector clients in the marketing and advertising industry.
Khayyam's love for Chicken Tikka will make him walk miles in search of a good one.
---
---
Consider Supporting The Team
We want to give access to information in an unmatched experience. You might have noticed the lack of ads on our website, and there is a reason for it – we want to keep it this way and through your love and support, we can!